Carriage clock repairs
Illustrated are less common examples of carriage clocks, double click the images to have a larger view
A lovely MINIATURE DROCOURT with painted panels, the movement is a standard timepiece.
Pierre and Alfred Drocourt produced some of the best carriage clocks of the 19Cent, Pierre started working in the 1820's and his son Alfred took over in 1880. Drocourt clocks' quality achieved worldwide acclaim and were awarded various prize medals at the Paris exhibitions and in London.
They had their workshops in Saint-Nicolas-d'Ailermont, the centre of carriage clock manufacturers of the time, but they also had premises in Paris, at Rue de Limoges(1861-1867) and at 28, Rue Debelleyme(1870-1890).
Many of their excellent carriage clocks, had decorative features (like our illustrated example).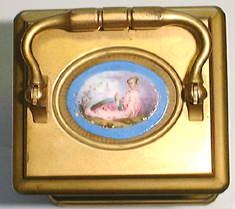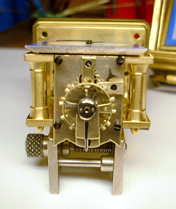 As you can see from the Drocourt mark (an oval with a carriage clock between D and C) and the low production number, this is an early example.
The platform has all the quality features similar to a Soldano.
Matthew Norman, month going, smaller miniature carriage clock.
A well known present day maker of carriage clocks is Matthew Norman and they have produced this unusual very small miniature.
To achieve this smaller size, the platform is mounted vertically on the back plate.
It is nice to see that to reduce friction some of the train wheels have jewel bearings, but in my opinion, it is "very unfortunate" to see non-dismatleable balance jewels. I do not mind as much to see that the barrel and the first intermediate wheel pinion have "involute" teeth.
It is not uncommon to see modern carriage clocks using involute gears to save on costs and they work OK, although not horologically ideal.
Minute repeater carriage clock
It is quite some time ago that I repaired this clock and the information about it is now lost; my camera was not very good either, sorry, but it is nice to see a "pull, minute repeater mechanism"
Grand-Sonnerie mechanism behind the dial and back
click thumbnails for larger views
Digital Mechanical Carriage Clock
Ever Ready Chronos Clock, circa 1905
Invented by E.L. Fitch and patented in NYC, USA, in 1903; this 30hour clock,was produced in Europe by Junghans, like this example.
click thumbnail for larger view